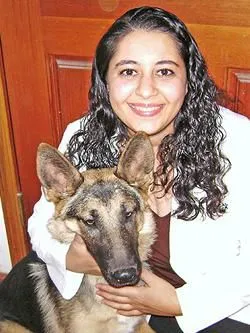 Dr. Sally Gindi, DVM
Dr. Sally Gindi is the proud owner of Surf City Pet Hospital since June 2011. She was born in Cairo, Egypt and was raised in southern California. She received her Bachelor's degree in Animal Science from Cal Poly Pomona in 2003, and her Doctorate of Veterinary Medicine from Western University of Health Sciences in 2007. Dr. Gindi worked as a veterinarian at Pet Medical Center in Temecula, CA for 4 years.
Dr. Gindi is dedicated to providing high quality of medicine and she has a real passion in caring for animals and teaching owners about diseases, treatment options and prevention. She strives to provide affordable excellent veterinary care for her patients. She is the proud owner of 4 rescued dogs, 2 cats and 5 parakeets.
Dr. Gindi has a special interest in internal medicine, dermatology, oncology and surgery. Dr. Gindi enjoys spending time with her family and friends, drawing, painting, hiking, reading and traveling.
Brittany - Veterinary Technician (Nurse)
Brittany has been working in veterinary medicine for 5 years. She was born and raised in Huntington Beach and owns 2 mixed breed dogs. She graduated from OC Veterinary Assistant School in November of 2021 and is in her pre-license period, pending the passing of the Veterinary Technician National Exam. Brittany takes a special interest in small animal nutrition and hopes to someday hold a Veterinary Technician Specialty license in Small Animal Nutrition. When not working, Brittany enjoys spending time with family and friends and her two active dogs. She loves camping, hiking, paddle boarding, and crafting.